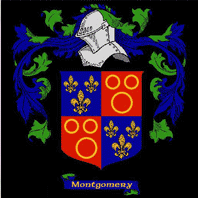 Montgomery
| | |
| --- | --- |
| Gaelic Name: | MacGumerait Hear name in Gaelic |
| Motto: | Garde bien (Watch well) |
| Lands: | Eglinton, Ardrossan and Kintyre |
| Origin of Name: | Placename, Norman |
Older History
The name of Montgomery derives from an ancient Norman family, who held the Castle of St. Foy de Montgomery near Lisieux, in France. Tradition asserts that the name can be traced back to a Roman commander called Gomericus.
Another ancestor, Roger de Mundegumbrie was related to William the Conqueror and was granted lands in England by his kinsman. He later invaded Wales, and in time he gave his name not only to a town, but to an entire county.
This encounter was chronicled in a vivid Borders ballad:
"The Percy and Montgomery met
That either of other were fain;
They swapped swords and they twa swat
And aye the blood ran down between."
The Percy family paid a great ransom for the release of Hotspur, and this money enabled the Montgomery clan to build the Castle of Polnoon. The old castle of Skelmorlie, near Largs, is now the home of the chiefs of the Montgomery clan.








The Montgomerys and their Descendants To Indiana 1903
by D.B. Montgomery

Due to the size of this account it has been divided into 25 .pdf files. Note that this account is the copyright of this Montgomery family.

This new printing of THE MONTGOMERYS AND THEIR DESCENDANTS is dedicated to D. B. Montgomery, who brought us his highly valuable collection of facts and clues why he first published the Descendant's book in 1903. D. B. Montgomery sold the original edition at $2.50 per copy, and all sales were limited to the pre-publication subscriptions. A few years later he reported that there was a flourishing market for the book, copies of which were selling for $3.00 each. He wrote to say that his grandfather, Austin H. Montgomery, Sr., said- "You will learn more about the Montgomerys in this book than you ever dreamed of. As soon as these have passed into the second hand stores they will sell for from $5.00 to $7.00 each." No doubt he was right. Certainly it would be difficult to locate an original copy at any price today. It is hoped this inexpensive printing will help fill the demands of modern Montgomery family researchers for D. B.'s wonderful contribution to our genealogy.