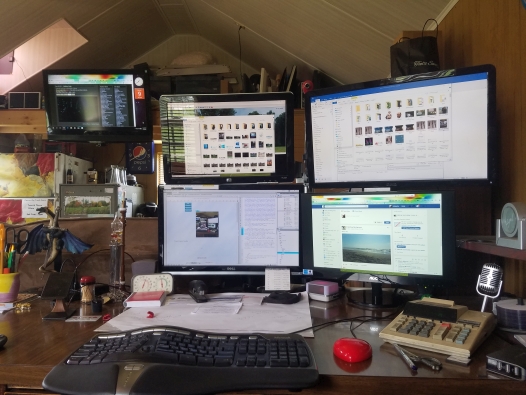 ---
Contact Information

Other Information

Will Relocate

Remote Support-Anywhere

Salary Required

OPEN

Work Type

Full Time

Other

A+ Certified | USMC Veteran

Hollyecho Montgomery
Montgomery@Hollyecho.com

7238 West 550 South
Owensville, IN 47665-8737
Ph: 812-779-6088

US Work Status

US Citizen
Tech Specs
Hardware: Linux | ATX | Unix | DOS | Windows | Towers | Laptops | Tablets | Smartphones | Servers (Blade and Drive, among others)
Operating Systems: AIX | Android Mobile | Linux | mainframes | Sun Microsystems | Unix | WiCat | Windows (version 1.0 through 10 + Windows Phone 7)
Programming Languages: Basic | C+
Remote Desktop Support Software: Join.me | Logmein + Logmein Rescue | MSP Anywhere | TeamViewer | Windows Remote Desktop Connection | Office Software: Corel Office Suite | LibreOffice | Lotus SmartSuite | Microsoft Office Suite | Microsoft Works | Open Access | Open Office | ThinkFree Office | Miscellaneous Software: Server Software | Domain | workstation | spiceworks | peachtree | QuickBooks | Quicken | exchange server | SQL | Skype | limited adobe suites | citrix software (various) | CRM software (various) | Among Othe
Certifications
A+ Comp TIA | Dell | DOS | Ethical Hacker | IBM | HP Certified | Windows 2-3+ | Windows XP | Windows 7 | Windows 8 | Windows 10
Professional Experience
Women's Computer Consulting, D.B.A. Owensville, IN
Owner, Sole Proprietorship 1994 - Present
As an independent consultant, fixes and improves computer systems for individuals and small companies, both in-person and remotely.
Manages a client base of 300 loyal customers, many of whom are not tech-savvy and need a trusted technician.
Repairs both hardware and software, scans for and removes computer viruses, performs upgrades as necessary.
Trains clients on a wide variety of topics, running the gamut from using software such as MS Office, to safe browsing practices to prevent malicious attacks.
Beta-tested MSP Anywhere SaaS, providing feedback on UI/UX functionality.
WOW! Inc. Owensville, IN
IT Support Technician, Level 3 November 2015 - November 2016
Completed a 1 year contract providing in-depth SME knowledge on highly technical problems, and fixing problems that others can't solve.
Provided company support and technical issue resolution via email, phone, web.
Built rapport and elicited problem details from non-technical and technical customers alike.
Provided timely, efficient and pleasant follow up to user questions and issues, managing incidents to closure.
Documented all incidents in the incident tracking system.
Deployed software for test and production uses, including installation, configuration, running, testing, and making necessary changes.
Assisted in generating training materials and customer facing documentation.
Acted as a SME for Tier 1 and Tier 2 Support.
Various Owensville, IN
POS Technician Subcontractor February 2004 - December 2016
Installed new POS stations for companies such as Staples EZ Tech, Installs, INC, Work Market, Field Nation, and OnForce.
MyComputerWorks Scottsdale, AZ
Remote Tech, Senior Level July 2014 - December 2014
In July 2014, MyComputerWorks acquired TechButler. As a Senior Remote Tech, assisted with the transition.
Integrated client base post-acquisition, weaning clients off of regular contact and streamlining with the new team.
Continued job duties from TechButler.
TechButler (Remote) Dallas, TX
Director of Technology February 2013 - July 2014
Delivered personalized IT infrastructure support for customer base from a centralized facility using remote capabilities and leading-edge automation tools.
Ensured accurate and up-to-date delivery of information.
Assisted users in solving all computer-related problems through remote login, over the phone and by email.
Diagnosed and troubleshooted all common PC related problems.
Assisted with PC, network hardware and software upgrades as required.
Responded to end user community queries.
Assisted in testing and deploying software upgrades on all systems.
Documented helpdesk issues and administered timely follow-up to resolution.
SupportSpace, Ltd. (Remote) Dallas, TX
Technical Support Expert, Tier 3 September 2010 - February 2012
Repaired both hardware and software, scanned for and removes computer viruses, and performed upgrades as necessary.
BASF Washington, NJ / Bethlehem, PA
PC Support / Team Lead February 2008 - July 2008
Provided quality control and change control.
Created machine accounts in Active Directory.
Resolved client and migration process issues.
Changed control over the migration checklist documentation.
Setup and configured the migration room and network.
Acted as a single point of contact for technical questions or issues pertaining to the scope of services.
Provided strong knowledge of workstation data migration and data cleansing tools and techniques.
Experience using Ghost for PC builds and deployments, support of WIN XP and moves, adds, changes for large groups of users.
Everly Originals Newton, NJ
IT Director June 2006 - February 2008
Installed 2 servers, setup active directory, MS Exchange, QuickBooks enterprise, among others.
FTP services, TrendMicro security for the company, including upgrading to these services and XP Pro for 42 computers.
Planned and implemented additions, deletions and major modifications to the supporting infrastructure company-wide in coordination with corporate leadership.
Oversaw the implementation of network security at the corporate level.
FastNet ISP Newton, NJ
Team Lead October 2004 - January 2006
Identified and solved dial-up, DSL, and hosting issues of call-in customers.
Helping customers with new systems, methods and software.
Fixed computer problems related to customer's ISP or Operations.
WebMD Evansville, IN
Software Technician February 2000 - April 2003
Fixed problems related to both Unix and DOS/Windows Systems.
Citrix interface with remote login fix and procedures.
Installed both Computer Hardware and Software.
Trained clients and other personnel on Windows software.
Formal Education
Vincennes University Vincennes, IN
Associate's of Science Degree May 1982
United States Marine Corps Various
CPL, Military Police Honorable Discharge July 1976 - February 1980